For the longest time, you can only sand using nothing but your hand and some sandpaper. But thanks to technological advances and innovations, there are motorized solutions of all shapes and sizes available today.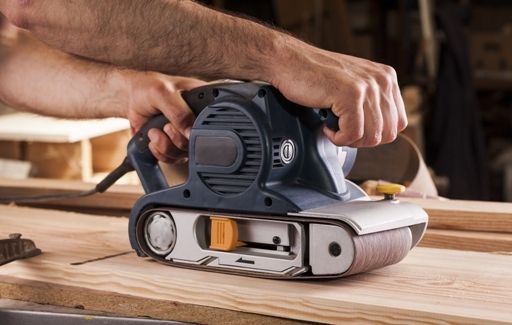 In this particular guide, you will be exploring what to consider, and what options you have in buying a belt sander that works best for you. Here are best belt sander reviews to look at.
Top 3 Rated Belt Sanders 2016
Product
Name

Belt
Size

Editor
Rating

Makita 9903


3X21 Inch

Rating:


(4.8 / 5)
Read 175+
Customer
Reviews
Hitachi SB8V2


3X21 Inch

Rating:


(4.5 / 5)
Read 85+
Customer
Reviews
Black & Decker DS321


3X21 Inch

Rating:


(4.2 / 5)
Read 190+
Customer
Reviews
A Quick Run Through 3 These Belt Sanders
1. Makita 9903 8.8 Amp 3-Inch-by-21-Inch Variable Speed Belt Sander with Cloth Dust Bag
Editor_Rating


Rating:
(4.8 / 5)
The Makita 9903 comes with a reliable 8.8 amp motor that can provide you with ample power to get your work completed in a quick and timely manner. The motor operates quietly compared to other handheld belt sanders in the market. This tool also features an auto-tracking device which allows the sander to maintain a straight position when used. It also comes with a front grip which is specifically designed to reduce hand stress when using the equipment.
The Makita 9903 is easy to operate and works very fast. The tool moves on the target with swift and it comes with a convenient dust collection. It is capable of removing paint from wooden surfaces with ease. Makita 9903 is also solid as it can work for extended periods of time. It also produces clean and smooth surfaces. Balance and precisions are also two of the main selling points of this electric sander. Makita has given most its research and development in creating this very reliable product.
2. Hitachi SB8V2 3-Inch-by-21-Inch Variable Speed Belt Sander with Trigger Lock and Soft Grip Handles
Editor_Rating


Rating:
(4.5 / 5)
Aside from its powerful motor, the Hitachi SB8V2 comes with numerous standard power sander features that are primarily geared to provide its users with ease of use and comfort. This tool also features a variable speed control which enables you to quickly switch between different speeds, depending on the type of project you are working on.
The Hitachi SB8V2 is both durable and powerful. It is considered to be a professional-grade hand held belt sander. The tool comes with a powerful 9-amp motor and 3 X 21 inches sanding belt which enables you to easily work on steel and wooden surfaces. Maneuvering through tight edges and hard-to-reach areas is not a problem with this belt sander. The Hitachi SB8V2 also comes with a long lifespan, given that you have provided it with proper care and maintenance.
3. Black & Decker DS321 Dragster 7 Amp 3-Inch by 21-Inch Belt Sander with Cloth Dust Bag
Editor_Rating


Rating:
(4.2 / 5)
The Black & Decker DS321 comes with numerous features for comfort and ease of use, especially at a cheap price. For instance, it features an adjustable handle with three different positions for optimal comfort and control. This tool is actually great if you are one of those people who are picky when it comes to belt sander handle. It also feature an adjustable belt tracking which enables you to keep the belt in place while working…
The Black & Decker DS321 sports a compact profile which provides you excellent contact when sanding. It also has a sleek design and front roller, which enable you to easily sand tight corners and difficult-to-reach spaces such as between banisters or underneath cabinets.
The Benefits Of A Good Belt Sander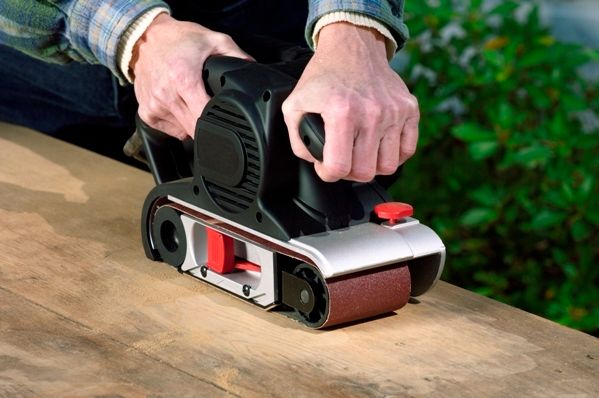 Belt sanders are light compared to other types of sanders – this means they are taken out and stored quickly. If all you're looking to do is a quick finish to pieces and surfaces of common materials, then you would do well to look at belt sanders.
Belt sanders are light and compact, which means that they are maneuverable. With a belt sander you can reach difficult spots with ease, and you have more control to cover smaller areas more accurately.
The way belt sanders made and how they perform makes them the premiere choice for removing undesirable residue on any surface. A belt sander can easily take out paint or varnish while maintaining the underlying finish of the material, when configured to the right settings and in a steady but firm hand.
Belt sanders are built to operate on higher speeds, so they can do sanding jobs quicker than other types of sanders. Workers prefer to use belt sanders to do a initial major sanding run before any fine-details are addressed. Belt sander is one of the most useful tools, you can use it in many types of sanding job such as: sanding deck, furniture, hardwood floor, floorboards,… or diy jobs. You can also use it for small shop or for home use, fine homebuilding…
Things To Look For When Choosing A Belt Sander
Check the front nose of the belt sander. If you're looking to do some work with soft woods and work that requires more detail such as small holes, then you would need to look for a belt sander whose front nose is more exposed and rounded.
Look for a belt sander with a dedicated system for track centering. This ensures that no matter how fast the motor is running, the best stays in place, but most of all, the belt stays centered.
Most, if not all belt sanders come with an appropriate vacuum and a detachable bag where all the dust and other residue should go. Check to make sure this feature does not interrupt your movement.
Belt sanders are more portable, but does yours have some heft to it ? You may not realize it at first, but some extra weight on a belt sander guarantees that you wouldn't need to push as hard to make the device smooth out a surface.
Your belt sander should ideally be operated with a grip resembling a pistol, complete with a trigger. Test the trigger to make sure that it locks, so that you can keep the belt sander running without having to keep one finger pressing it.
Tips On Using A Belt Sander
Be Consistent In Preparation – Put in a fresh and new piece of sandpaper before you start the day. Make sure there are no furls or loops in the power cord for less interruptions as you move around. Have the right protective gear on. Make sure the dust bag is empty.
Be Aware Of The Sandpaper You're Using – Always remember that the rougher the grit of the sandpaper you place on the belt sander, the quicker you can deal with rough surfaces – but, on the other hand, you will need to switch to sandpaper with much finer grit to really make the surface as smooth as it should be. At any rate, you would do well to test the sander and the sandpaper on some scrap wood or material before you put it to work on the actual surface.
Be Diligent In Practice – Though you can use a belt sander right out of the box with ease, it does take just a little bit of practice for you to use the tool effectively, to the point that it literally becomes an extension of your body. The more you use the belt sander, the more you will see that the material you are smoothing has much more chance of getting damaged than your own body, and the more confident you will get in using it for more projects.
Be Innovative And Creative With Your Belt Sander – Remember that your belt sander is more or less capable of sanding more than just wood – and the moment you realize this, you will actually appreciate your belt sander so much more. For instance, did you know that you could make knife edges or wood chisels sharper simply by running them the right way through your belt sander? This isn't actually too unorthodox as you may believe, it's just that you need to remember that it isn't just a table that could benefit from a smooth surface.
Be Open For Advice – Sanding may have an initial reputation of being a monotonous chore, but if your ears are open for any suggestions in making the whole job easier with your belt sander, you will find out that there is a sense of pleasure and achievement to making sure that your project is finished appropriately. Take in as much advice as you could, from local acquaintances or online, preferably from those who have the same belt sander as you.
Frequently Asked Questions (FAQs)
What Do I Need To Wear When Using A Belt Sander ?
It is advisable to wear something to protect your eyes. Safety goggles should be enough, but you may want to cover yourself further with a full face shield, if you have one. If you're going to be doing fine smoothing, wear a face mask to cover your nose and mouth as you work.
Does The Width Of The Belt Matter ?
Most belt sanders are made to cover areas three inches wide at a time, and this should actually be enough, even for wider areas. You may want to buy belt sanders with wider reaches, but only if you're sure that you will be using that whole area for the majority of upcoming projects you will have.
Does The Weight Of The Belt Sander Matter ?
Yes. Most professionals will tell you that you shouldn't apply excessive pressure on your belt sander, because most of the time, the weight of the belt sander should be enough to do a decent and consistent smoothing job.
Conclusion
There are many brands which you can choose such as: Makita Belt Sander, Black & Decker Belt Sander, Porter Cable Belt Sander,… Besides, you maybe also want to read Belt Disc Sander Reviews. Depending on your budget, you can choose a product with suitable price: under $100, $100 – $200 , over $200 ,…
There are many types of belt sander for the money today. Some of them are recommended by many woodworkers like: Makita 9403, Wen 6502,… If you want more in-depth information and test results for any of the products mentioned here. Take your time, test as much as you can, and hold off on impulse buying… and you will end up with another perfect device to add to your veritable 'team' of capable, woodworking and finishing tools.